"La Fenice" distances itself from the sweet and too alcoholic product stereotype. Similar products on the market, in fact, have gradations between 25% vol. and 30% Vol., on the contrary, our Company has chosen to limit the alcohol content (18.50% Vol) and, consequently, reduced the amount of added sugar. We took this decision with the purpose to make a more balanced product, enhancing its main components: wine, 100% Cesanese of Olevano Romano (Buttarelli Cellar), strong and structured, with clear hints of red fruit; cherries, wonderful fruit, with and unmistakable harsh and determined flavor; white almonds offer a smooth fragrance and manage to integrate gently in a concert of freshness and almost forgotten.
"La Fenice" represents a novelty within the eno-gastronomic scene; with its low alcohol content, which is the result of the maceration of the cherries in wine, and its balance between herbs, spices and flavors, offers the possibility to be used differently: at the end of meals, as an alternative to traditional distilled liquor or as strong wine to combine with desserts, biscuits or chocolate. We suggest serving La Fenice at a temperature of 10-12 ° C.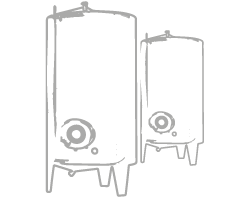 FIRST PHASE:
Cherry maceration in red wine in stainless steel containers. The duration of this first phase is about 30 days.
SECOND PHASE:
Filtering the wine using a pump and a carton filter. We must press the cherries with a press, and then we filter the juices. The wine and the juice are then mixed and the resulting mixture filtered.
THIRD PHASE:
Adding sugar, ethylic alcohol 95% vol., white almond essence. Leave the finished product in steel containers for about 10 days.